events: fort russell days - cheyenne, wy
I love Wyoming, reenacting, people, and making new friends. I also love talking, laughing, singing, sunny days, and tomahawk throwing. So basically this past weekend was everything amazing combined into 4 days. Sweet.
If you know me, you know I journal a LOT. And guess what...you get to be snoopy and peek into what I wrote about this!
And if you weren't there, you might not be interested in all of the writing. But it holds some of the most fun memories of the whole weekend...so read away. :)
Looking back, I laugh at the difference of what I wrote at the beginning of recording the events of each day.
Friday: "Day went well."
Saturday: "Wow. I don't think I can even muster up enough words to describe today! It was amazing."
Sunday: "And I thought yesterday was good..."
I miss it all. The flat land and dry weather. The smell of canvas tents, the early freezing cold mornings. The burning and stinging of smoke in my eyes and the feeling after walking everywhere for three days. Running to the "saloon" to grab ice cold lemonades for my friends and I. Being made fun of for being such a city girl. The smell of smoke that infiltrated every single thing we had up there. Going barefoot running one morning and playing an intense game of frisbee that same evening.

The simplicity. No stores, no computer - just me and most of the people I love, all within a short walk of each other. Having to make do after a wardrobe malfunction, using a scarf for a stomacher. The shocked look on peoples faces as they realized just how big our families were. Shivering around the fire every morning and then burning up with heat as soon as the sun came up.
Being called Tomahawk Molly for carrying my tomahawk on my skirt all the time. Stealing away during my lunch break and throwing hawks with my friends instead of eating. Throwing with Anna for an hour every morning, and throwing with friends every evening. Playing pig with my friends and missing almost every shot except an underhand that no one else could get. Laughing so hard at everyone's tomahawk throwing styles - the "what?" throw, the walking throw, the sidearm throw.
Laughing until my stomach hurt at my new friends, and old friends, just because we were tired. Talking and hanging out with new friends that were perfect strangers the day we arrived, and the friends we had seen the year before. The discussions on missions and music around the campfire, then trying to make the time getting to your tents after curfew last as long as possible. A water fight at the end of the last day with the fire extinguishers. And when the water ran out we threw ice.
The times the "ice guys" would come around and we'd scramble to get bags and pots to fill and put in our coolers and to put down our backs. The walk to the gym to shower and the relief of walking into an air conditioned building. Trying to stay awake every night to write in my journal so I wouldn't forget anything, then not being able to sleep anyway because of the loud music. The corn kernel fights and the times we would laugh ridiculously hard at things that weren't even funny. The deep conversations I had with people I didn't even know.

I miss beautiful Wyoming, and it's people, and the memories I made there.
But thank goodness for cameras. ;)
I wouldn't trade those 4 days for anything, and I'm so glad we went. It was ever so much more fun than last year (which was also a blast), and I just know next year will be even better! My throwing arm is sore, I still have mud on my shirt from when one of my friends smeared it on during the water fight, my hair still has a tinge of smoke smell in it and my costume still smells like smoke. I have my cards that I cut into (while tomahawk throwing) sitting on my shelf, and my temporary ID for being on the AF base is still in my wallet. But while I have those things, it still feels like it was a dream and never happened... so it's a good thing I took pictures to prove it actually happened! Enjoy a peek into our weekend. ;)

On the way up!



Cheyenne bound. Love the drive up!



Getting water after we arrived...it was so hot and dry!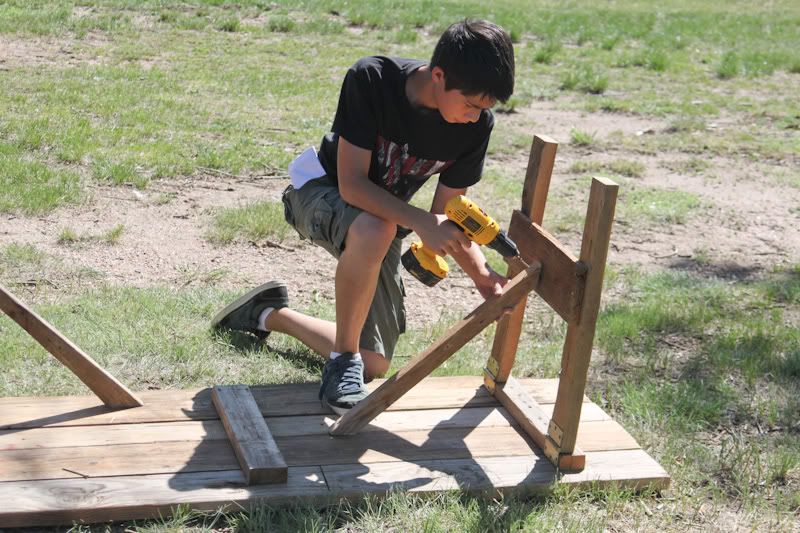 Jared setting up tables.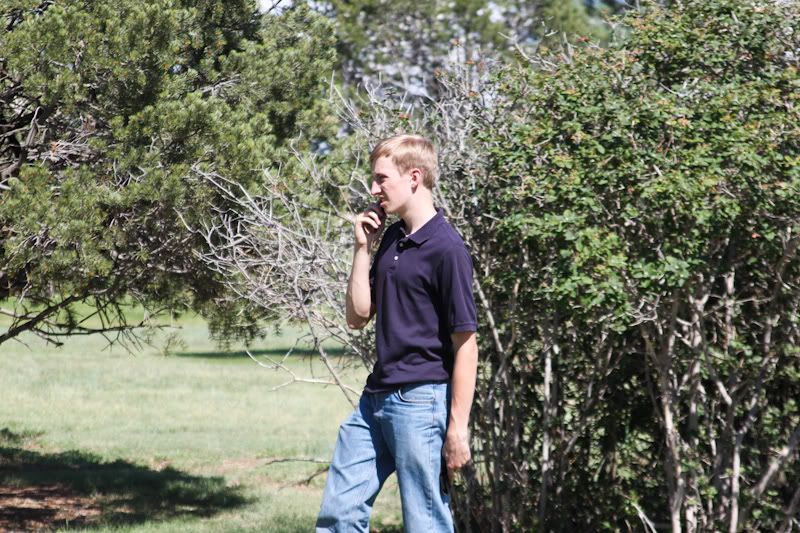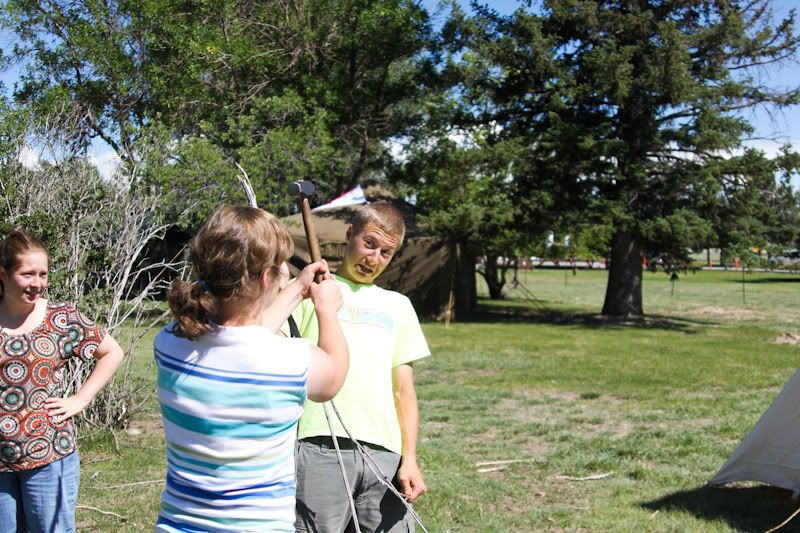 She's dangerous with a hammer. ;)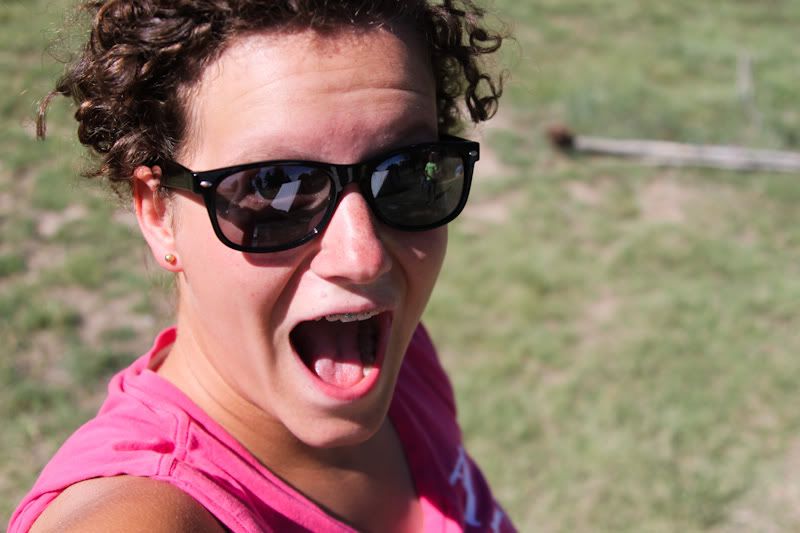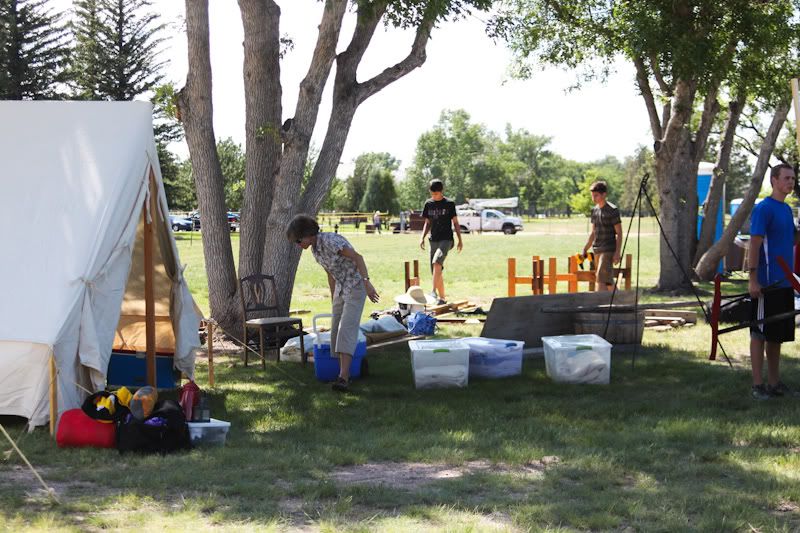 Making poles for our tent to replace the ones we forgot. :P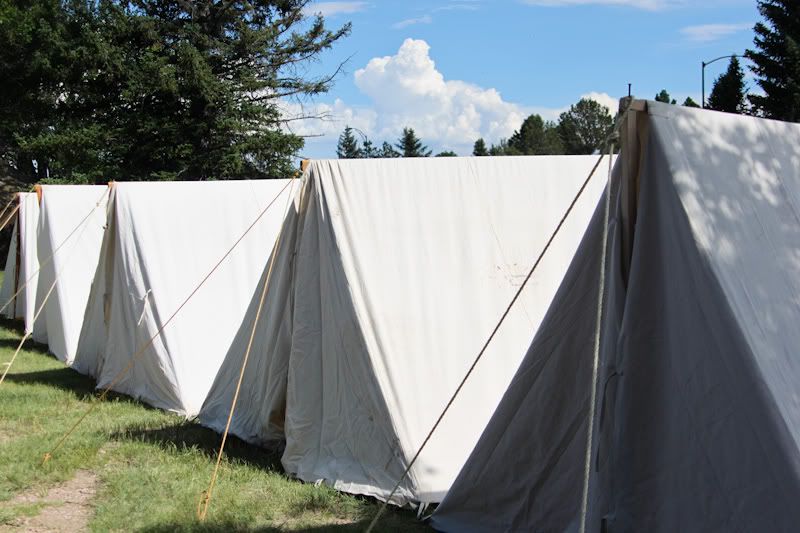 The nice straight row of wedge tents. ;)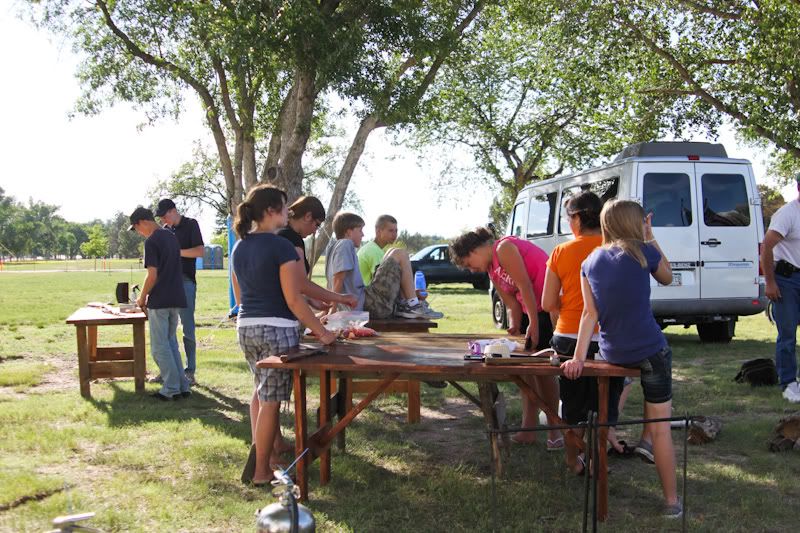 Chilling before going to Chipotle.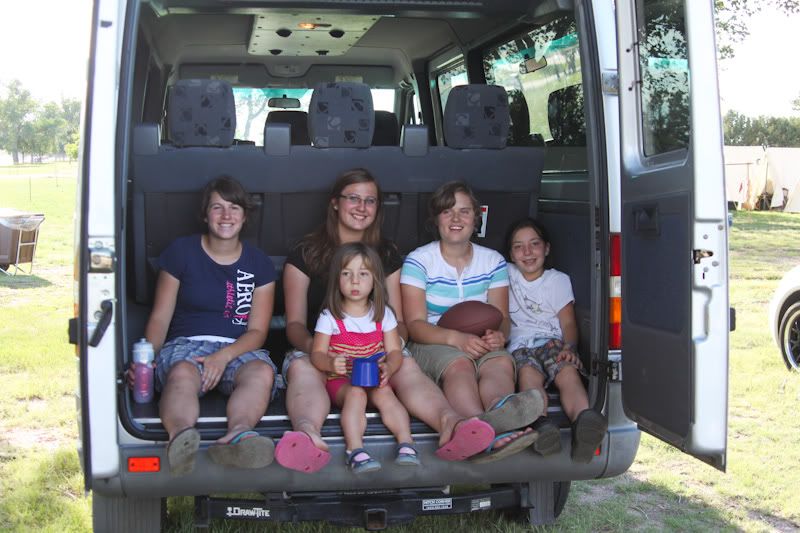 Cutie pies in the back of the van.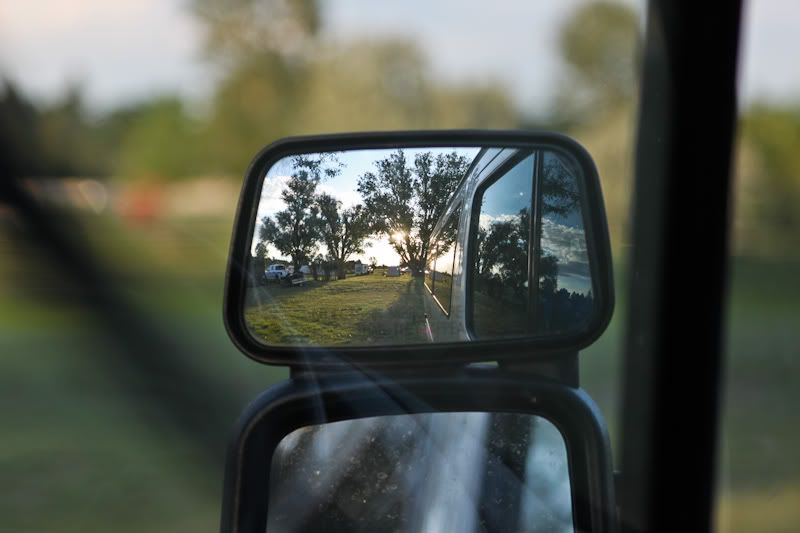 Cool sunset!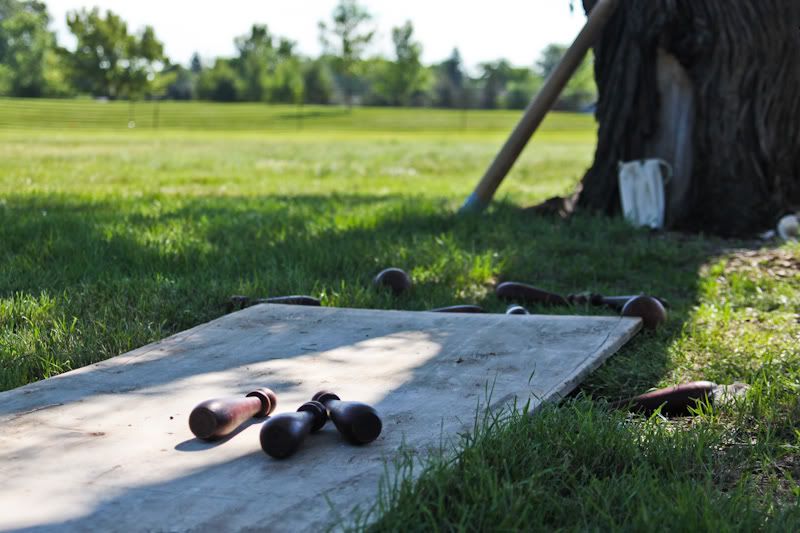 On the morning of the first day.



Where my tomahawk got to sit while I was busy. I used that baby for hours on end. :)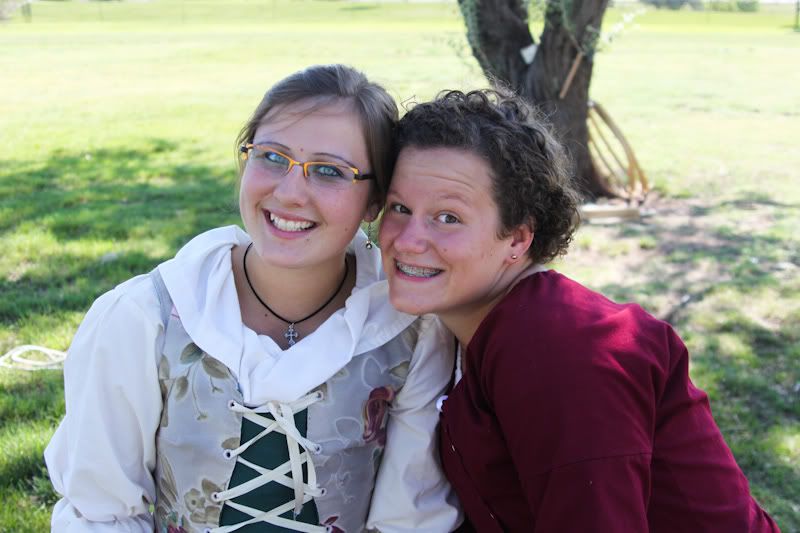 Leandra and I got to be on games together the first day!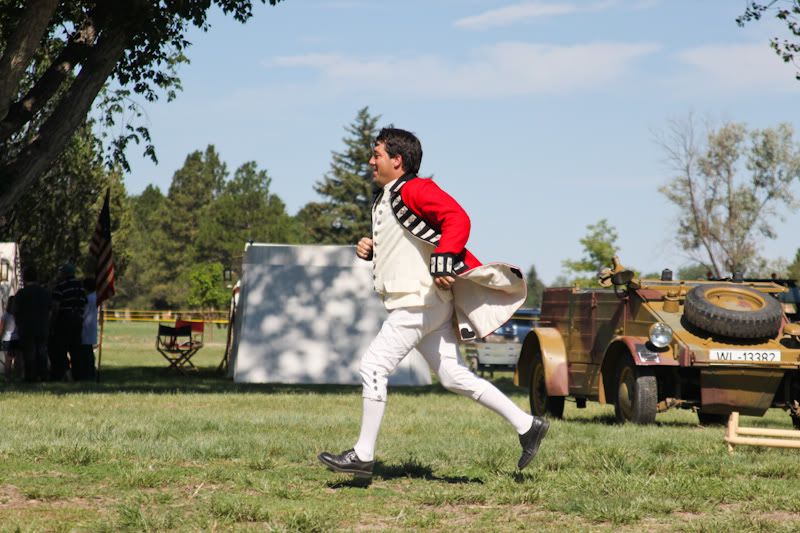 Mr. Young racing to join a drill.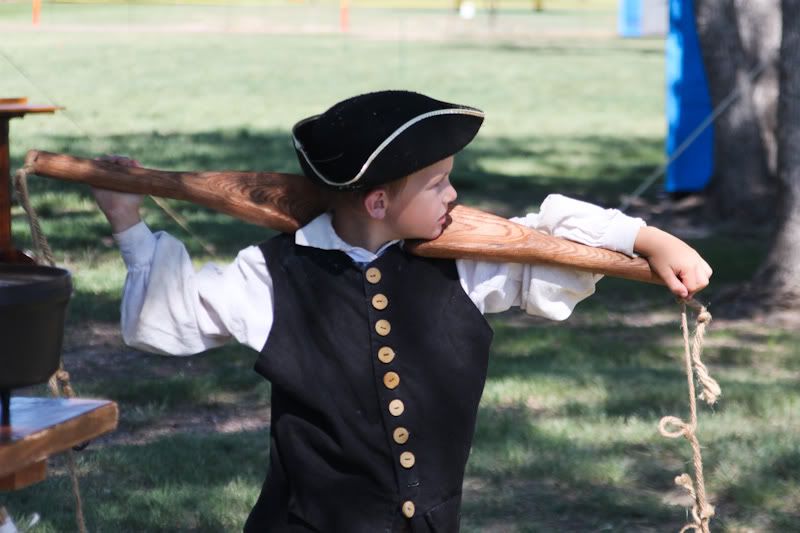 Talk about cute...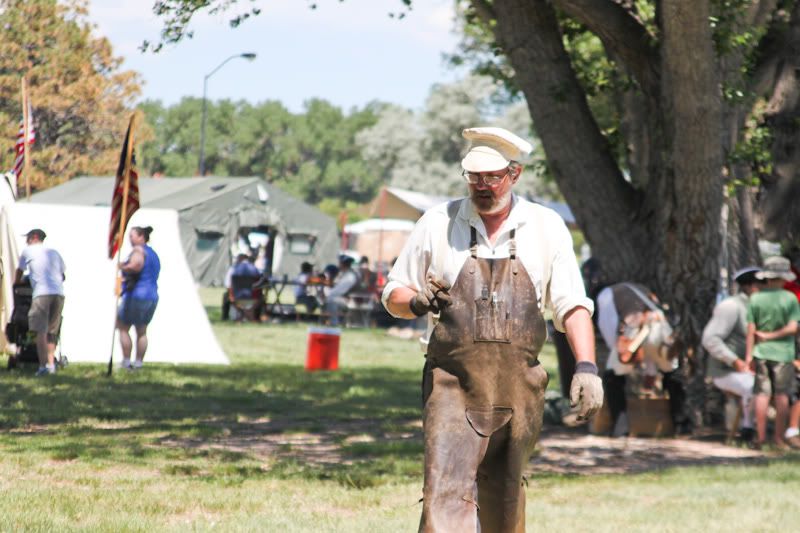 The blacksmith very kindly offered to make us another trivet because we forgot ours!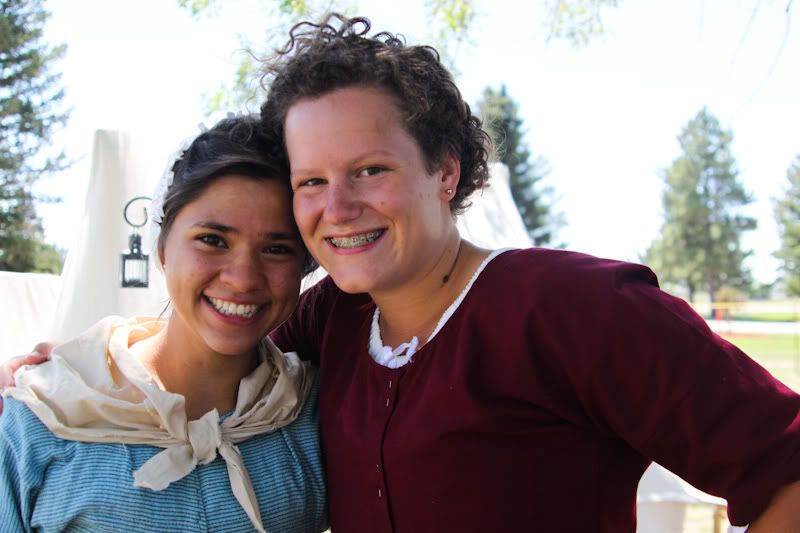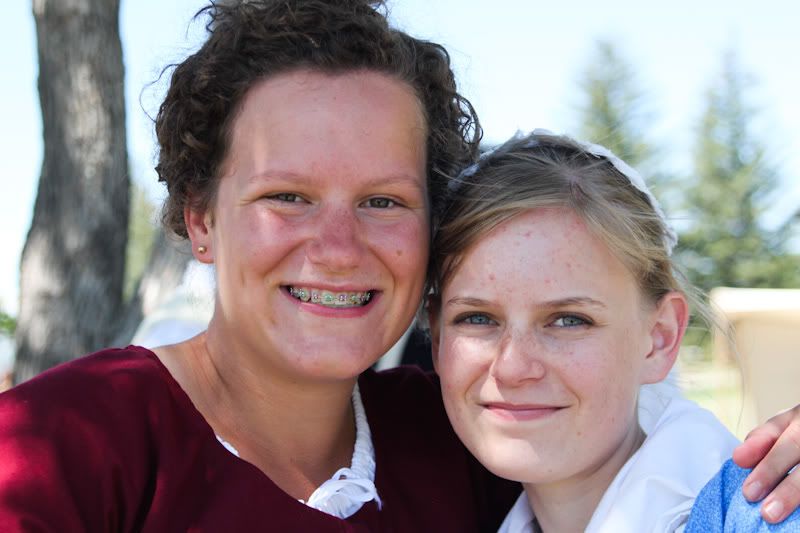 Love these girls!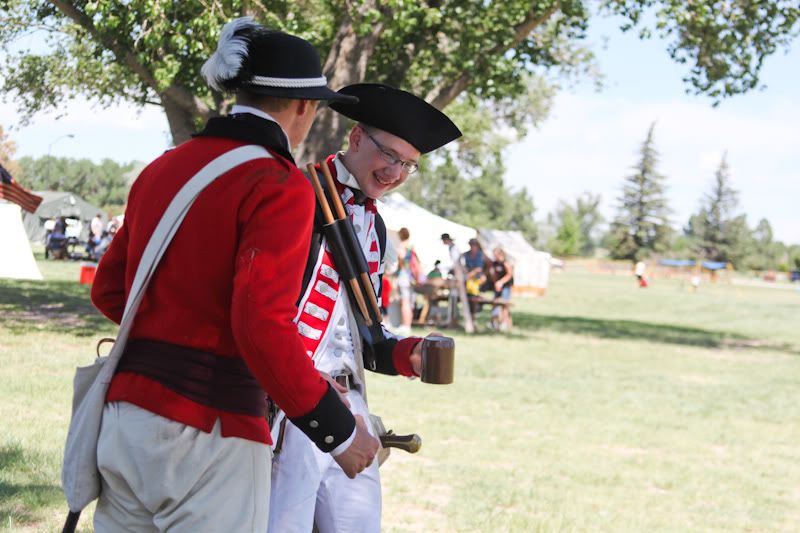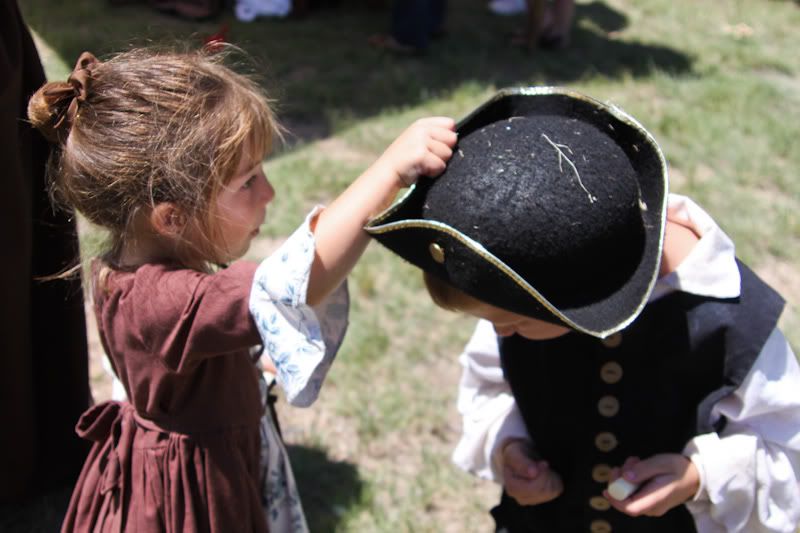 They loved me after I gave them a cheese stick. ;)



Part of our camp!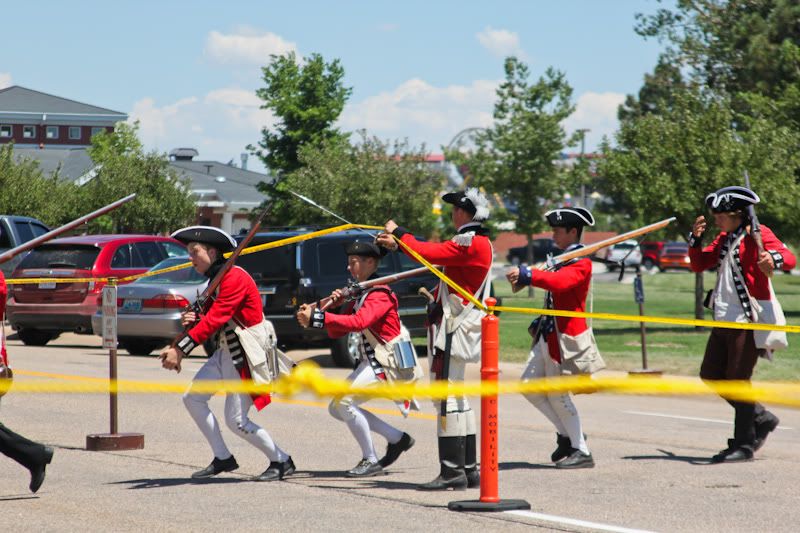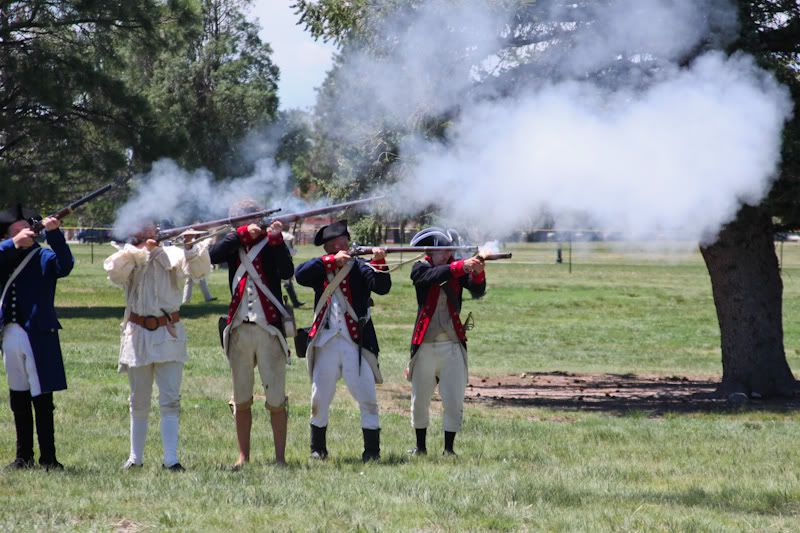 I got to watch the second battle on the first day. Very fun!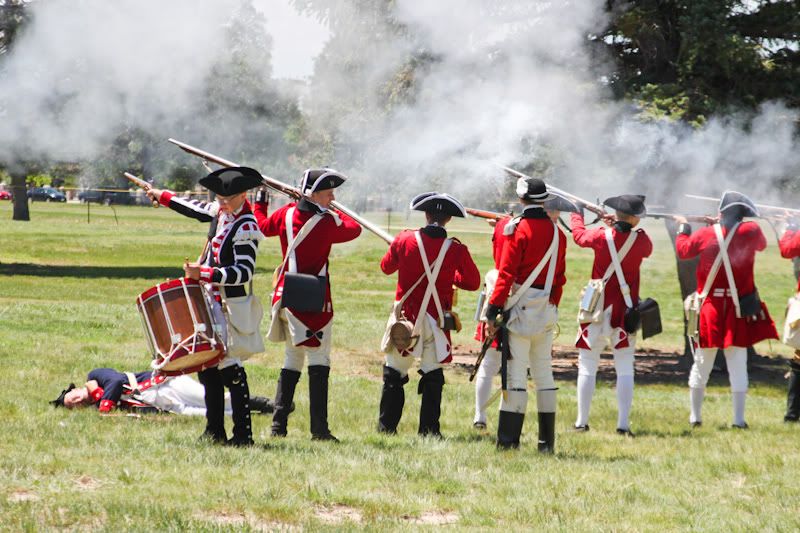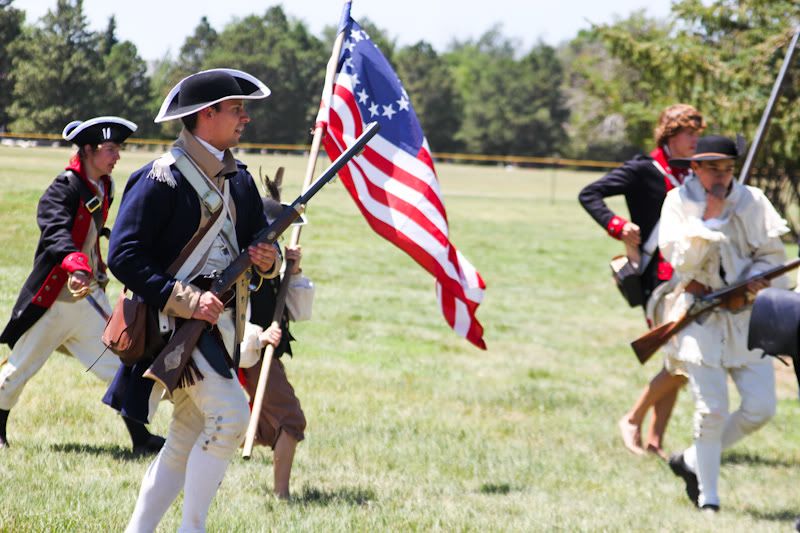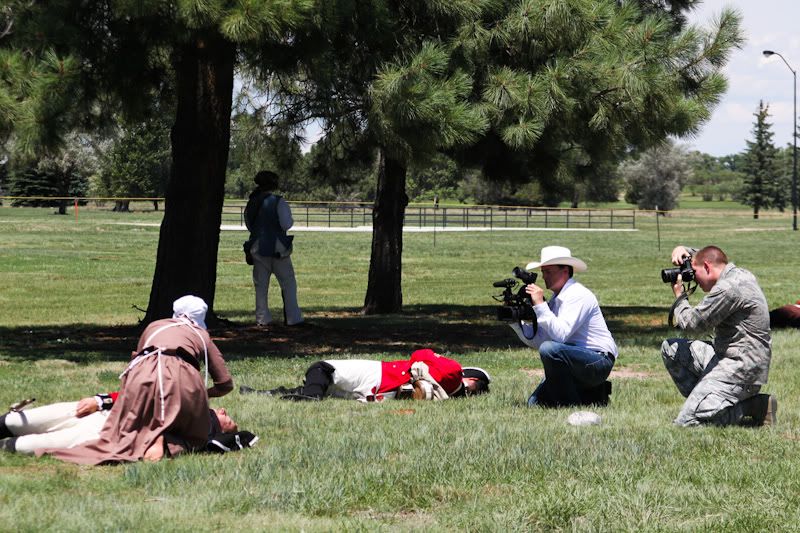 Rebecca got famous!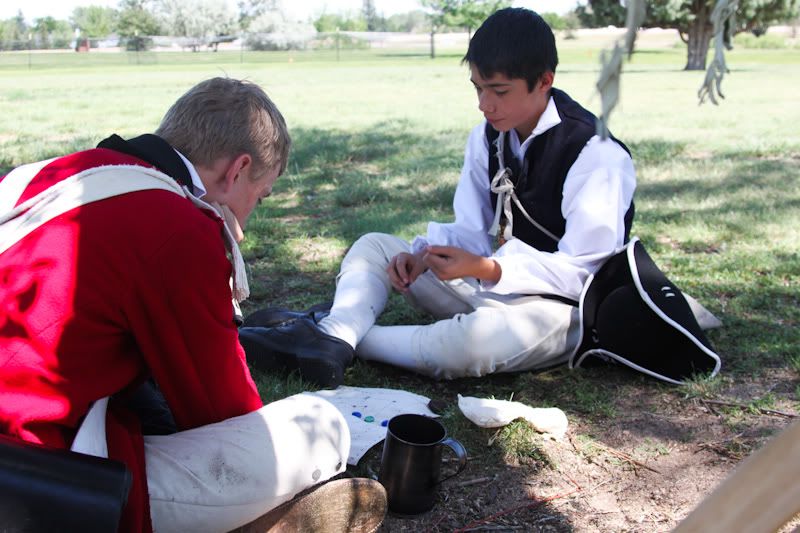 Jared and Andrew in a tight game of Nine Mens Morris.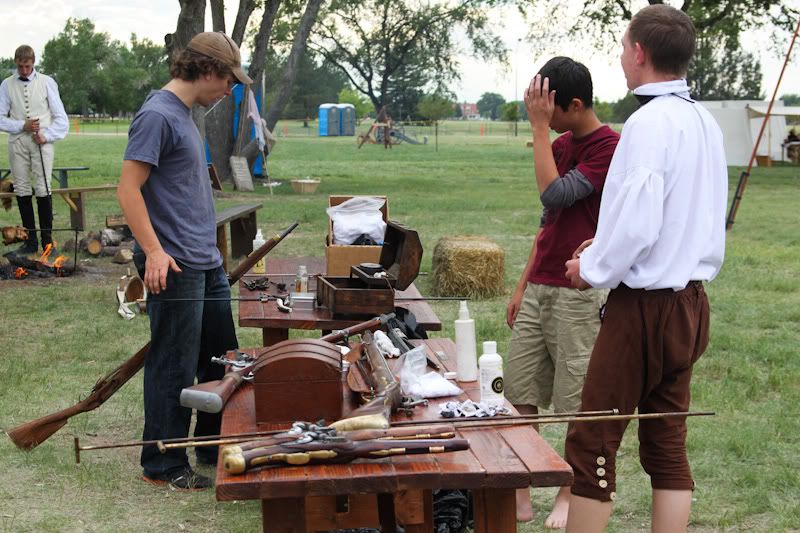 Gun cleaning after the first day.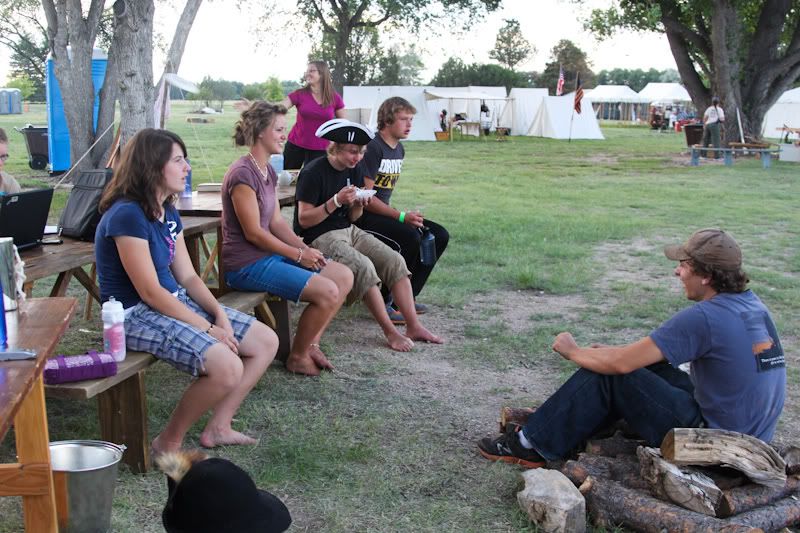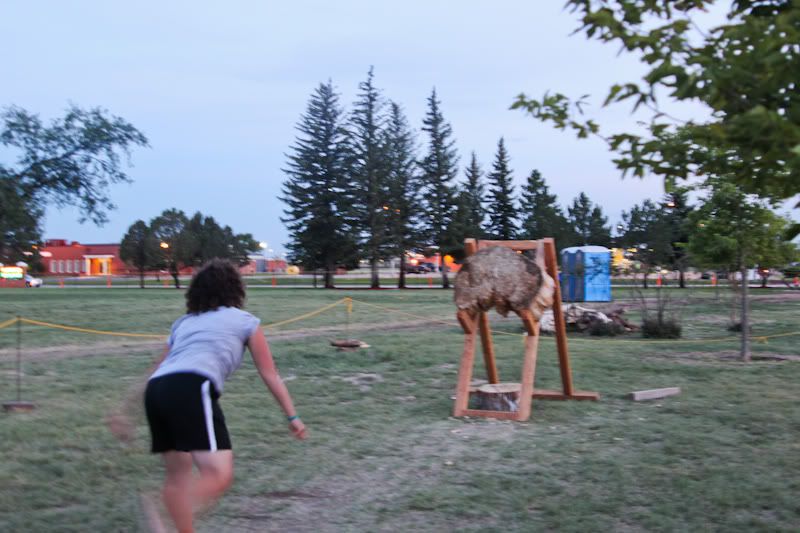 Our favorite past-time! Sooo fun!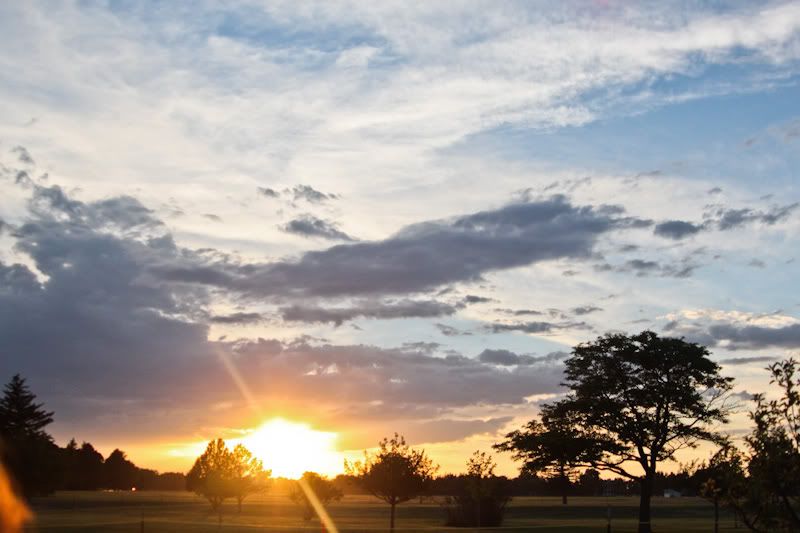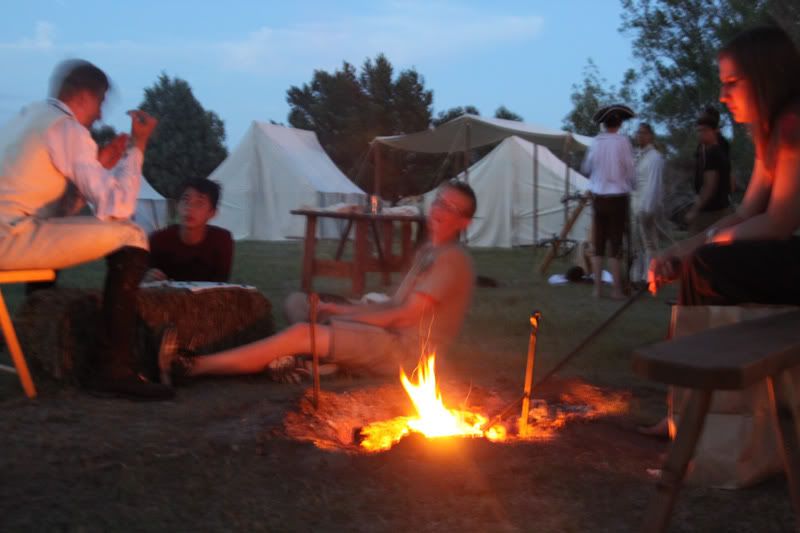 It was weird to be stifling hot during the day and then sit around a fire in the evenings. Haha.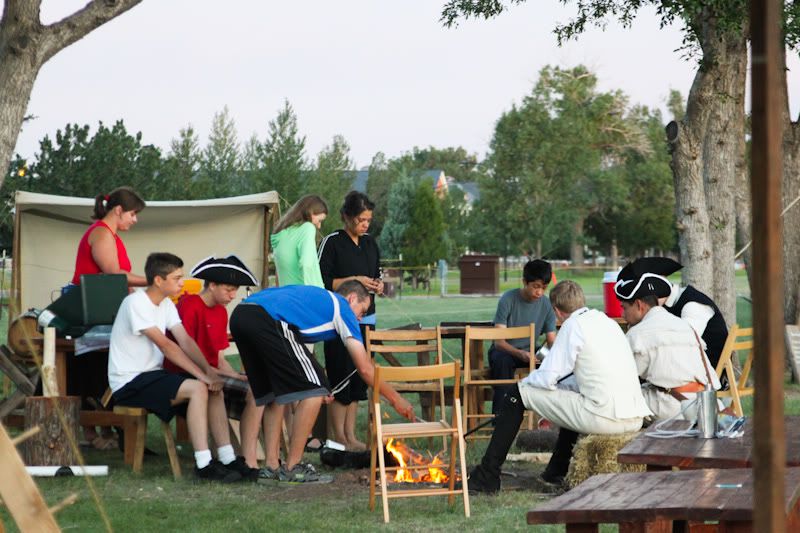 Everyone up bright and early on day 2!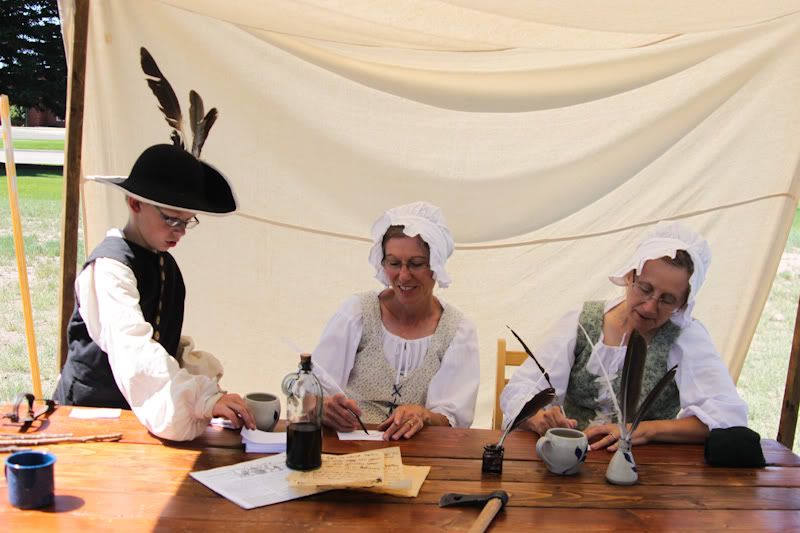 Fletcher was a great help to Mom and Mrs. L. :)



Watching and learning...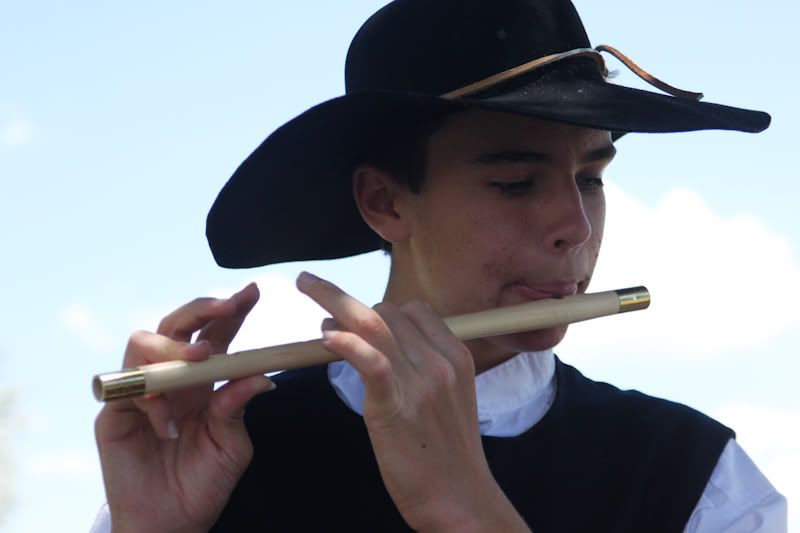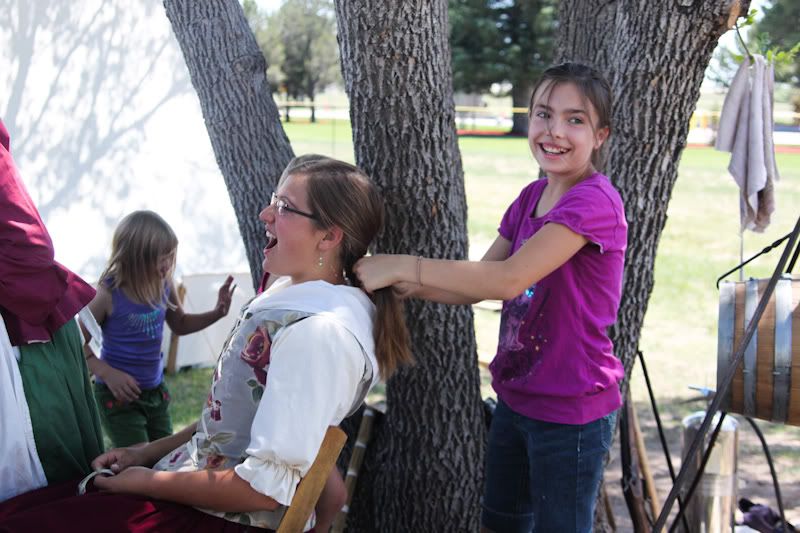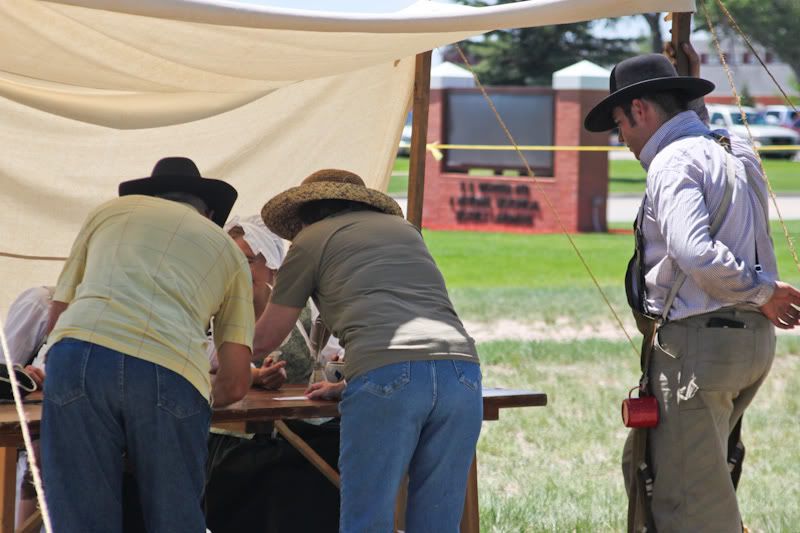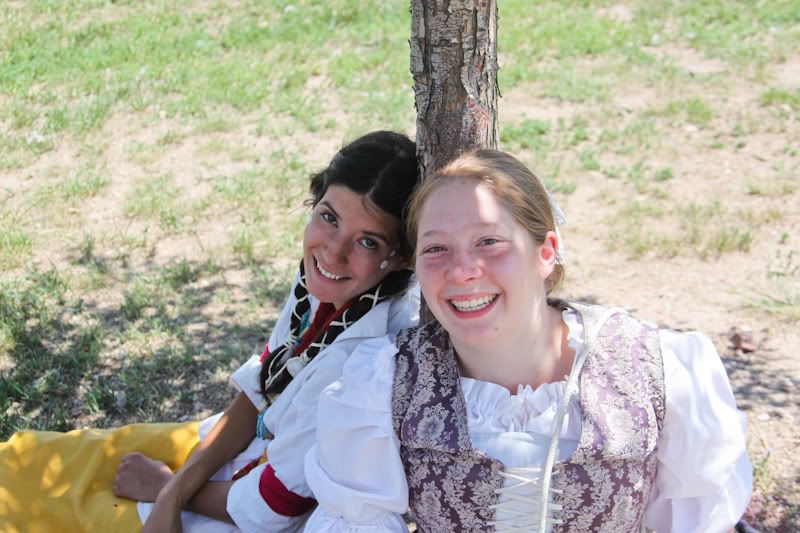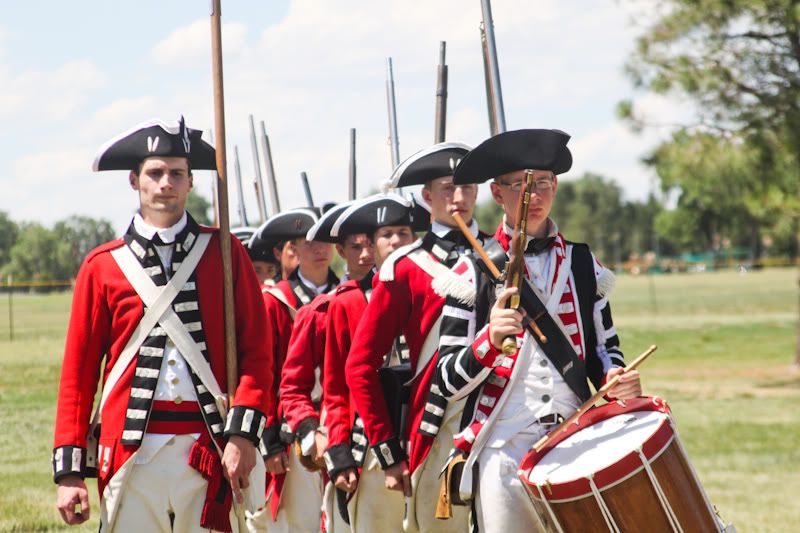 Leandra took my camera for the battle that day and got some great shots!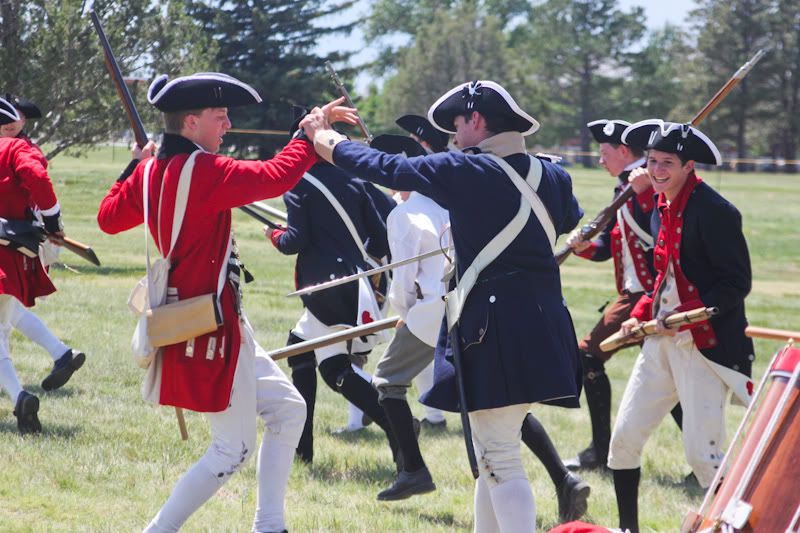 Ha...gotta love Mr. Continental in the background laughing!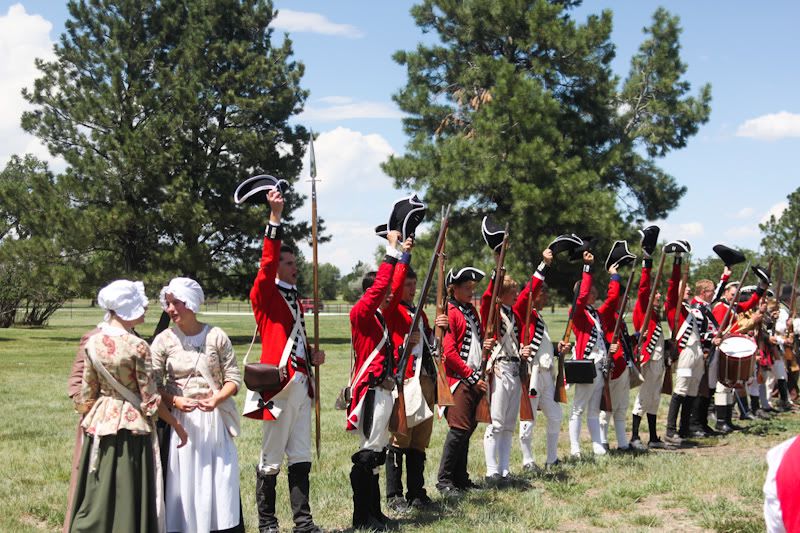 Huzzah!



At the tomahawk throwing place!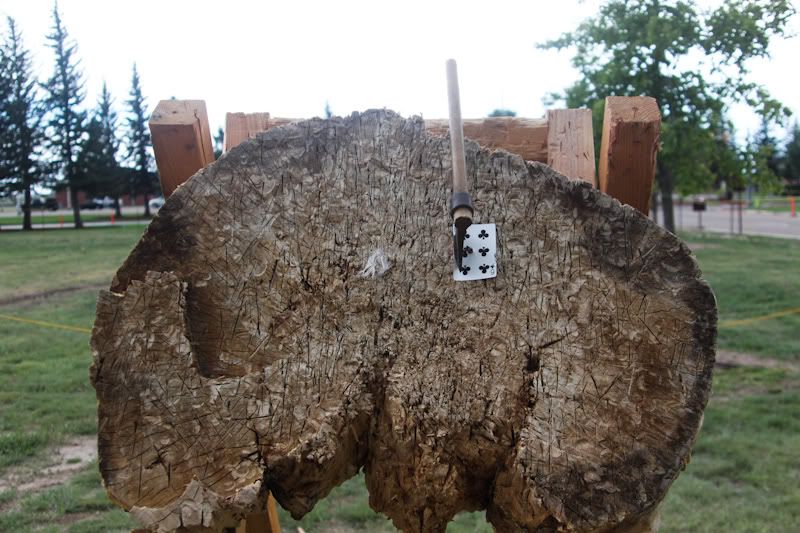 My second try throwing backwards that day...obviously chance and not skill. But still cool! :P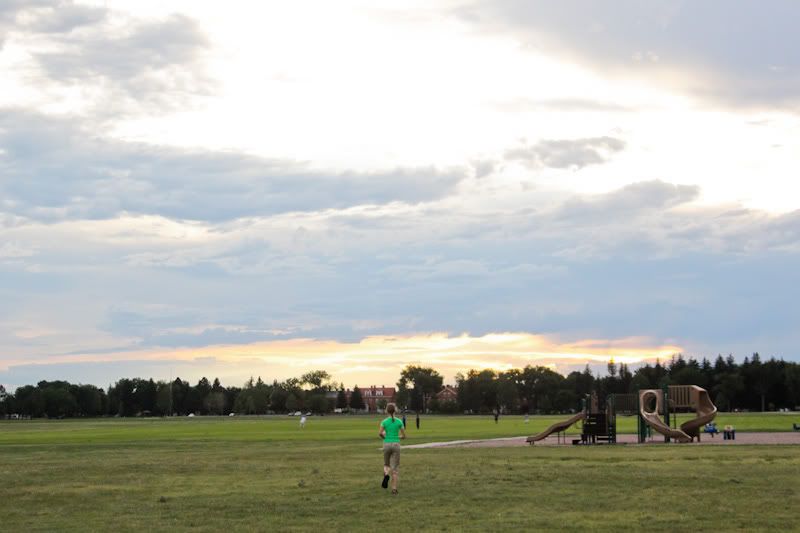 Got to play frisbee that evening. It was so fun!



Excited. :)



Cooking doughboys around the fire. Traditional reenacting camping meal! So good!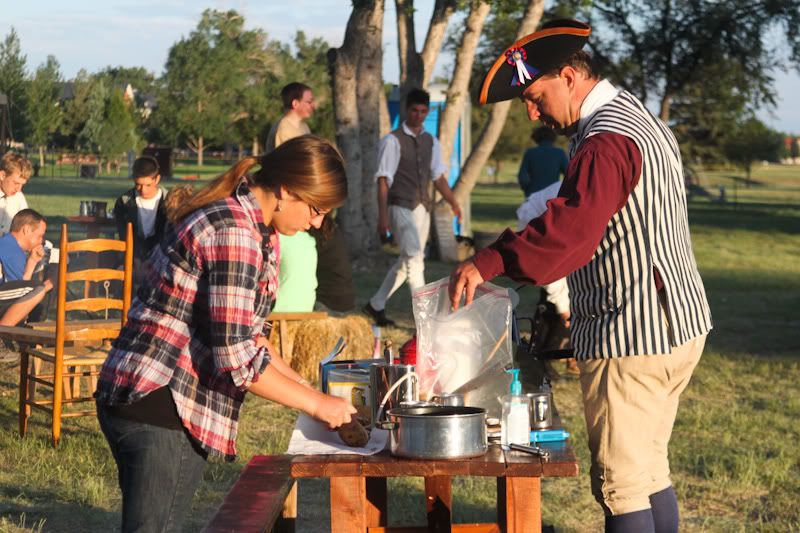 Breakfast on our last day...getting ready to make it the best day of all.



This picture cracks me up so much.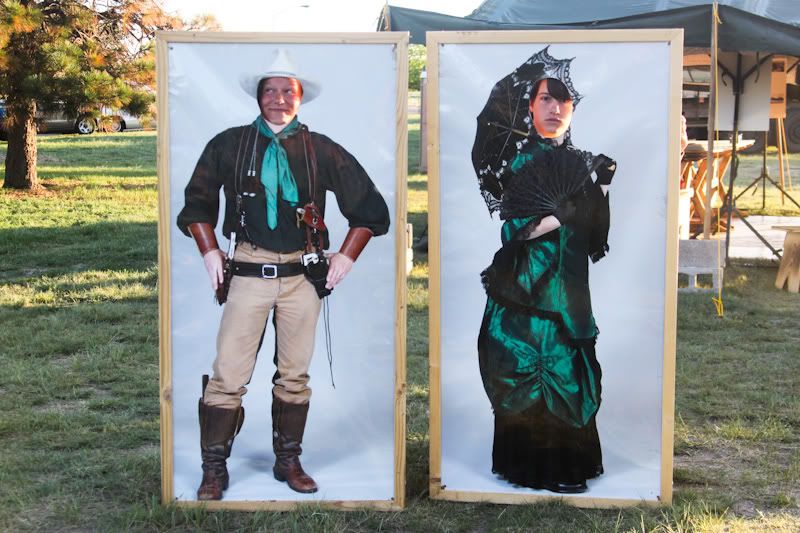 Oh, and this one! Haha!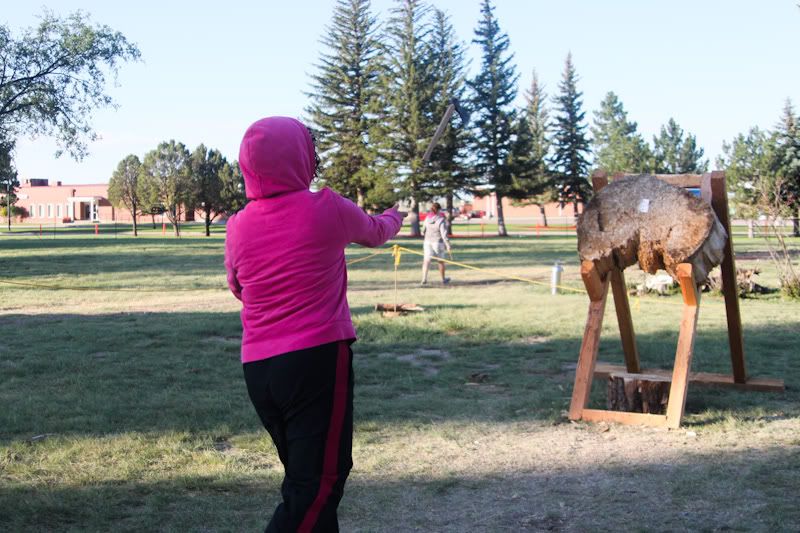 Last early morning tomahawk throwing.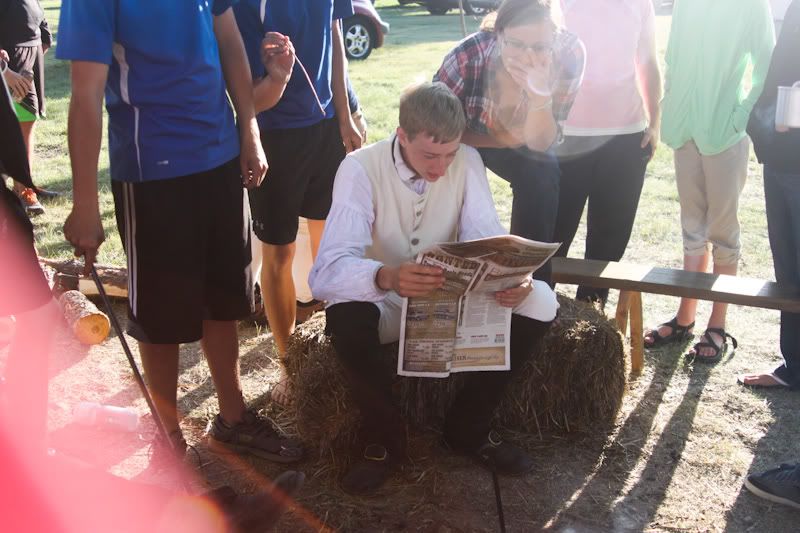 Looking at the newspaper that we were in!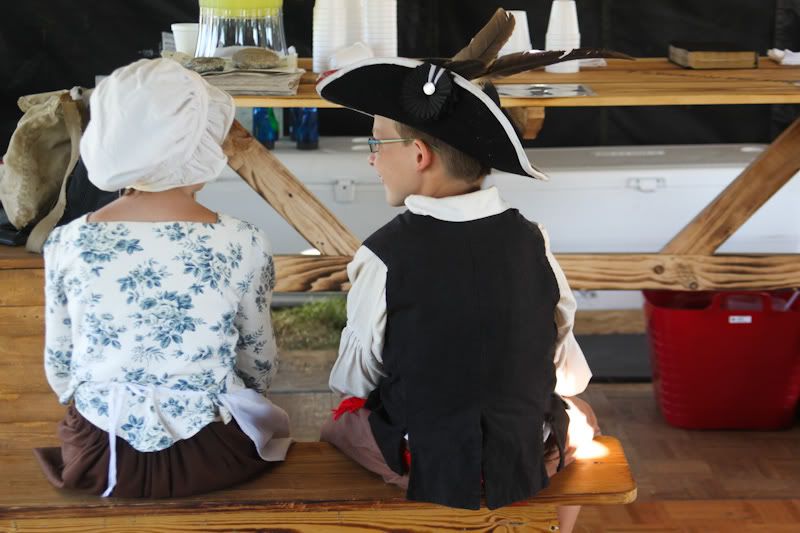 These cuties getting ready for church in the saloon.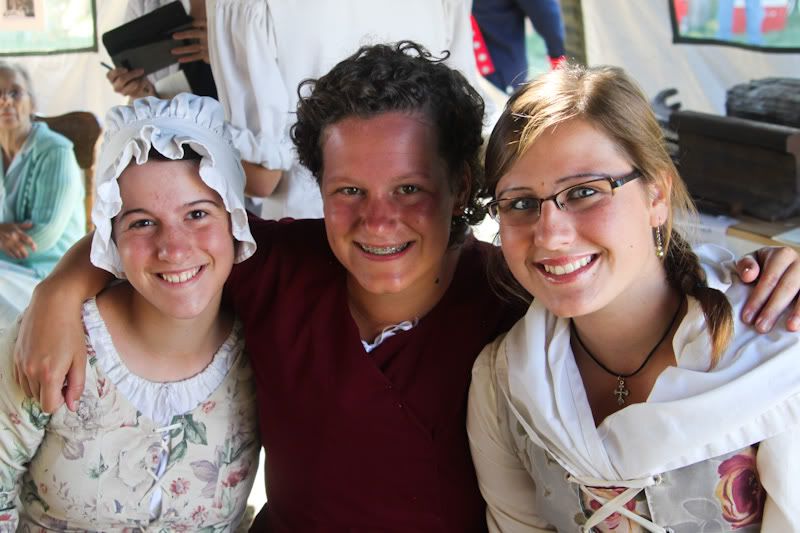 Love them. :)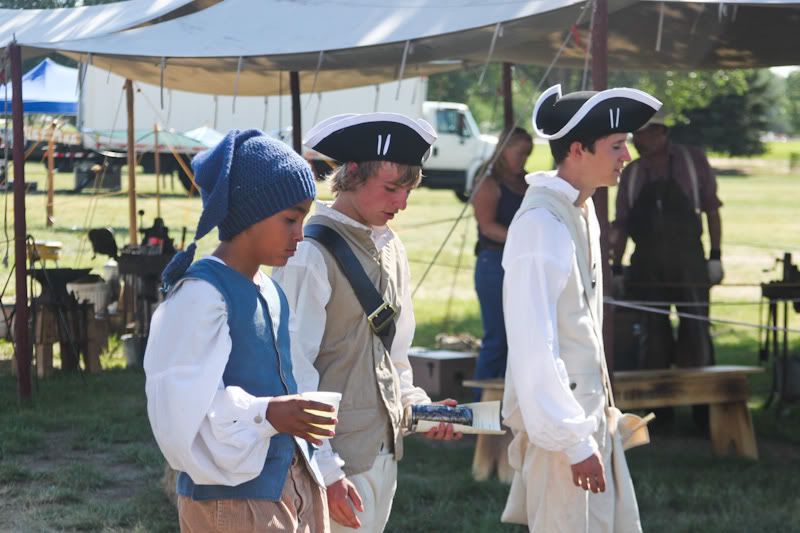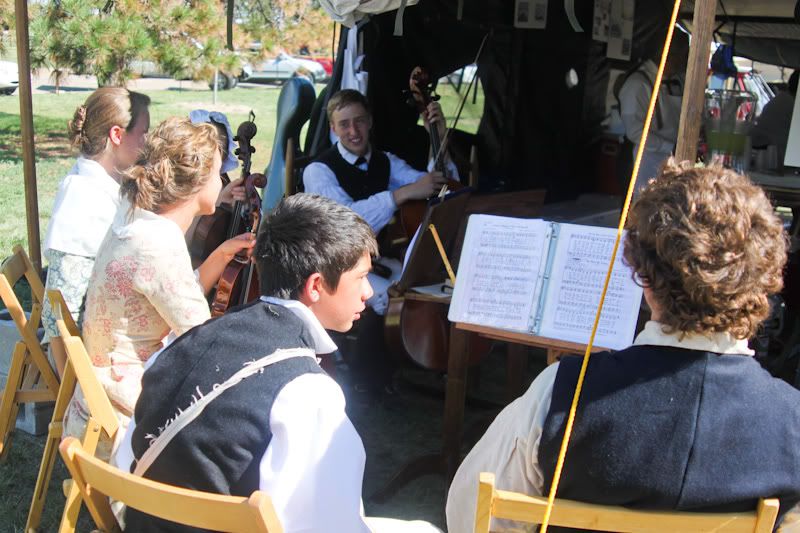 The music crew at church.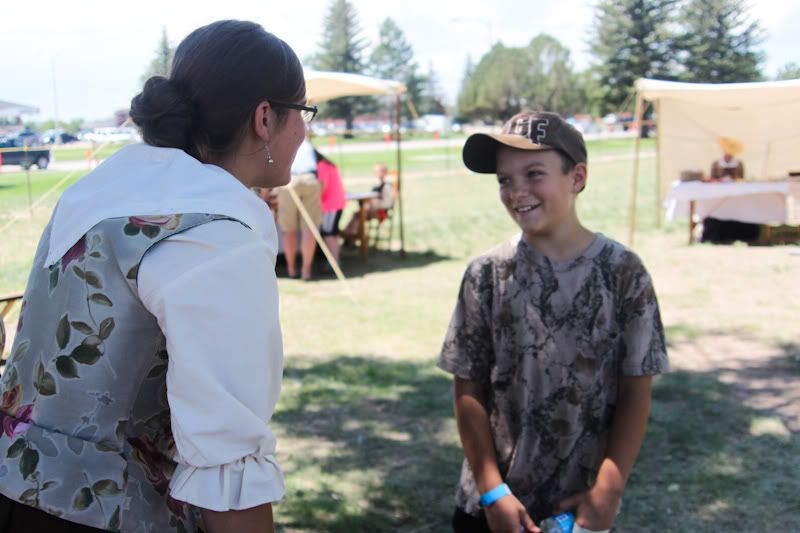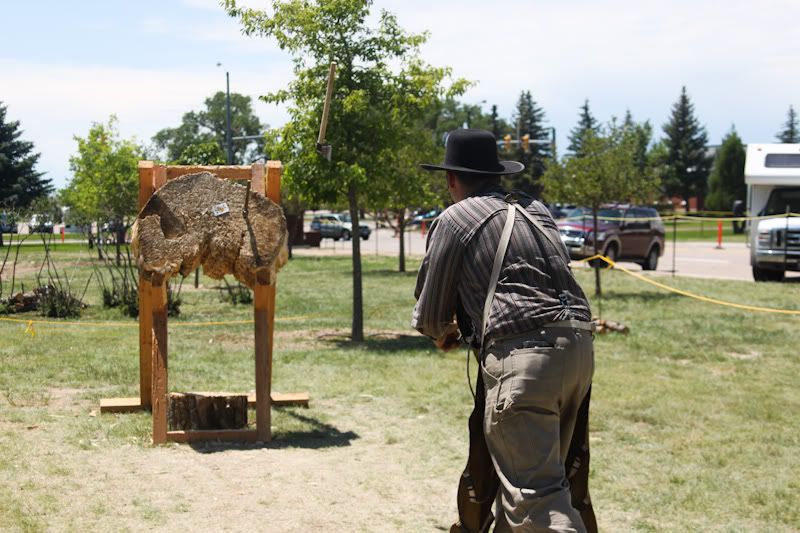 Watching some more throwing. I learned how to teach by watching, and even got to teach a few of the public! It was fun!



Yup, I cut a pear with my tomahawk. Now do you know why they call me Tomahawk Molly? ;)



New friend. :)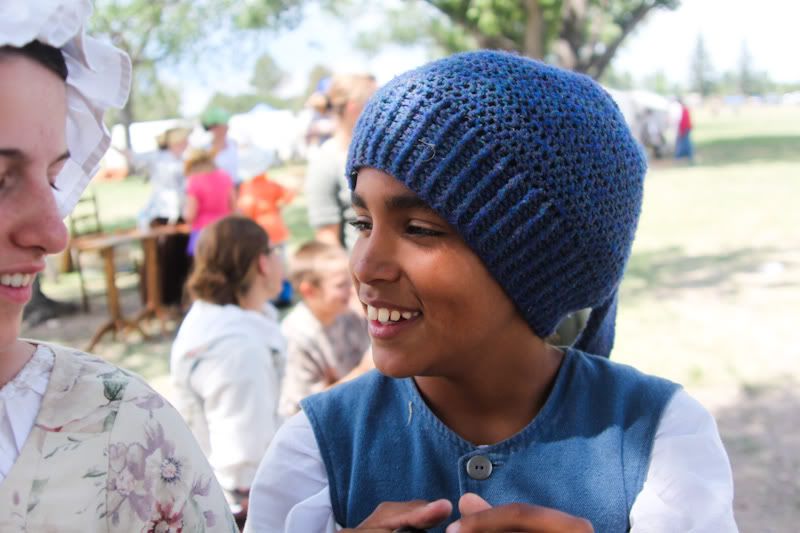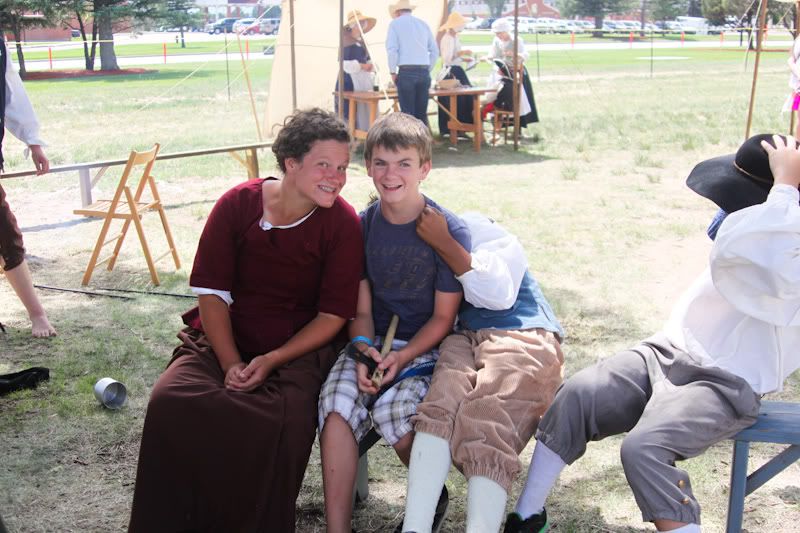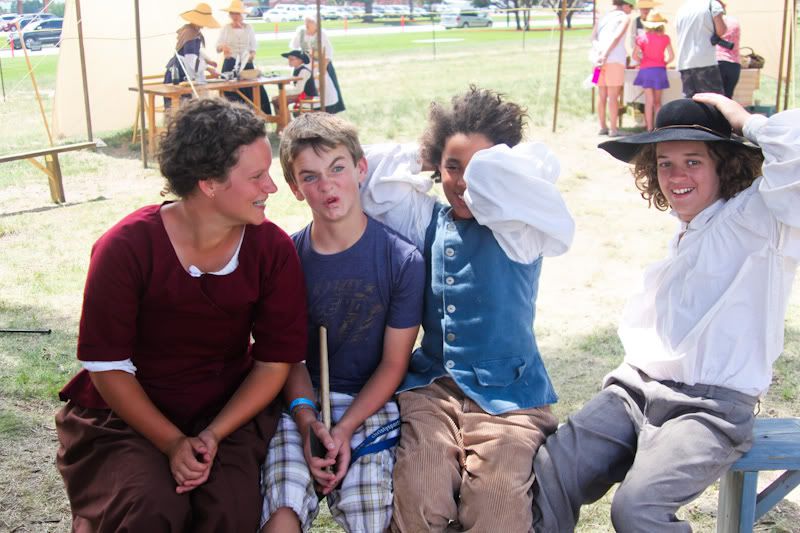 Oh man...good times!



Laughing with Codi about something...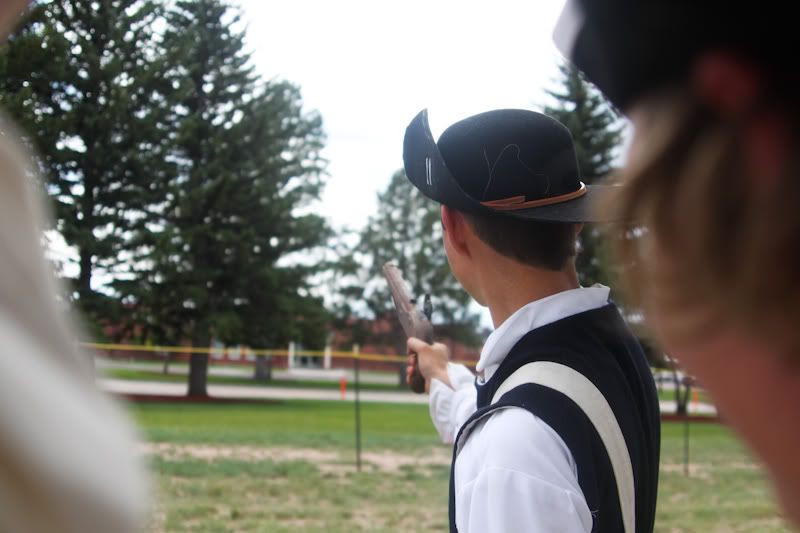 Firing the pistol behind our camp!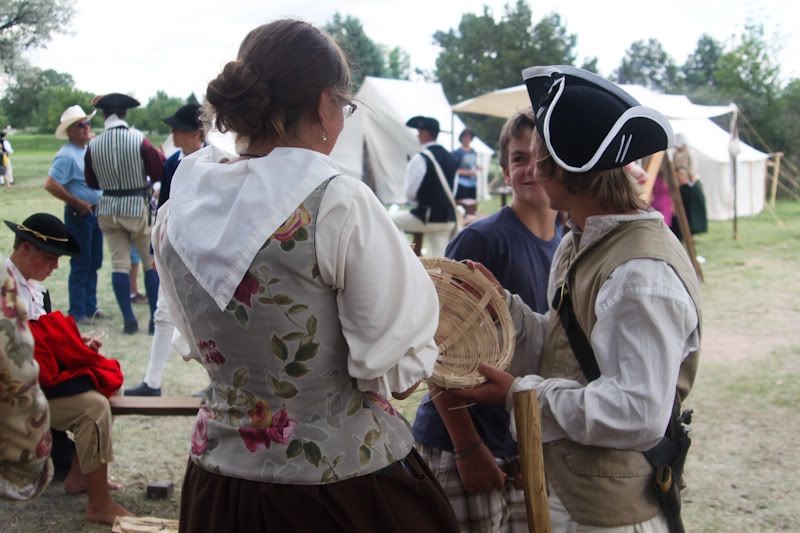 Friends help friends. :)



Aw :)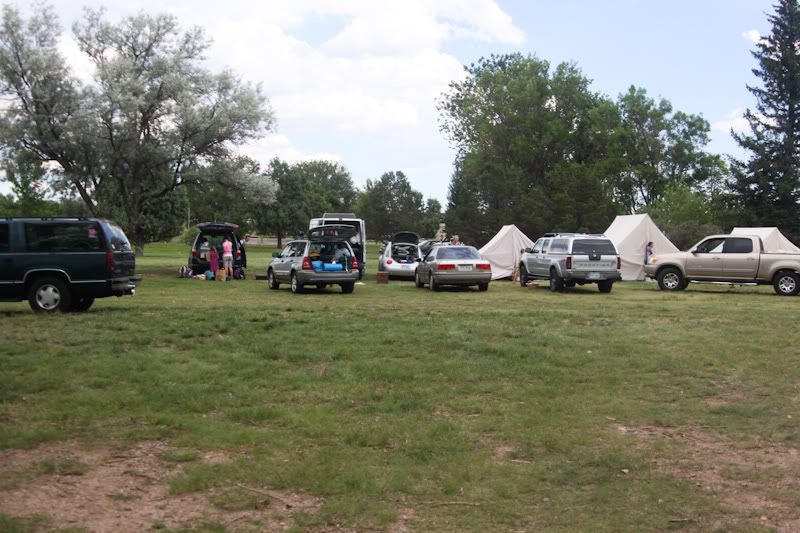 Packing up...look at those cars! We got everything down in under an hour. Record for us.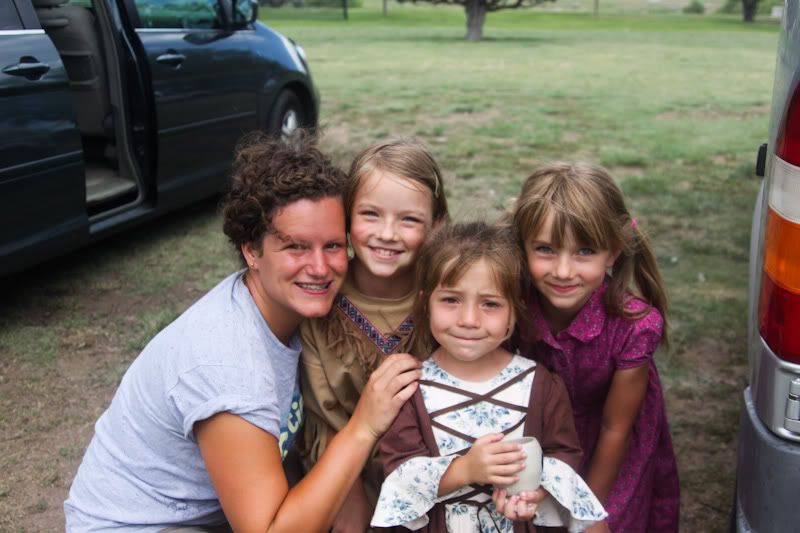 These girls...are so awesome.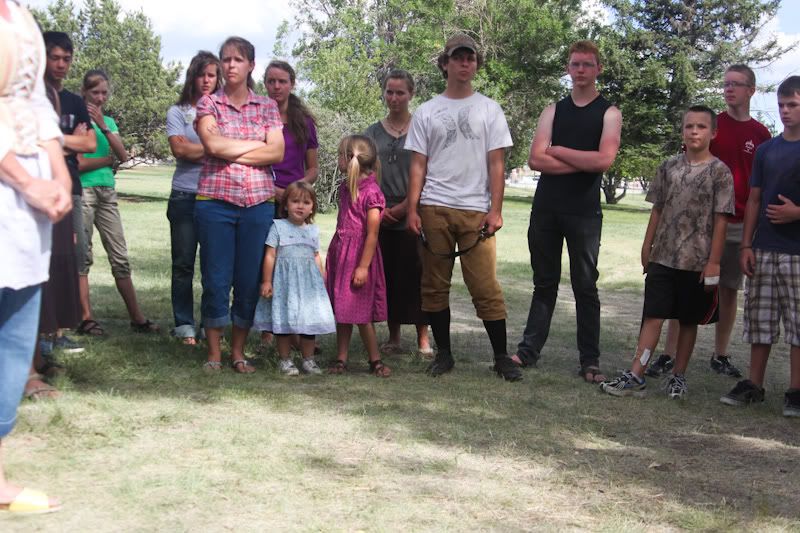 Singing our Vision Heirs song and closing with prayer before our goodbyes.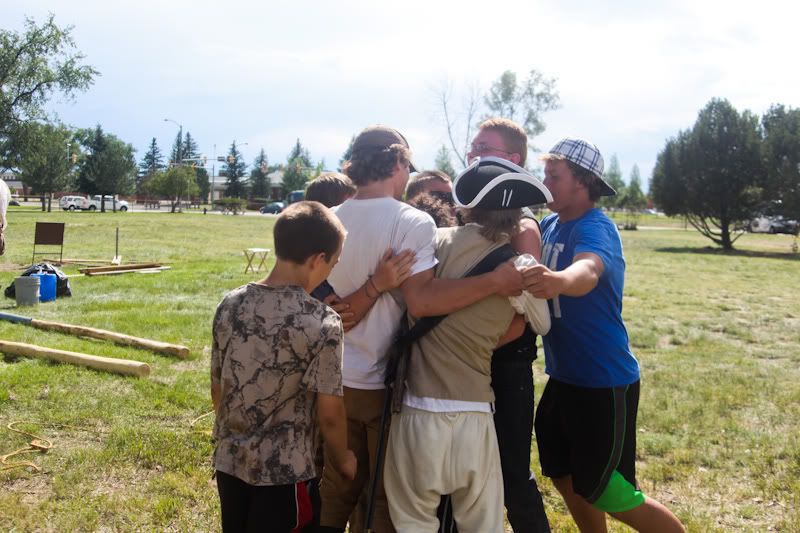 Nothing says goodbye like a group hug!



Or a water fight! ;)



I wasn't that excited to leave, actually. :P



:)



Ahh...love this kid.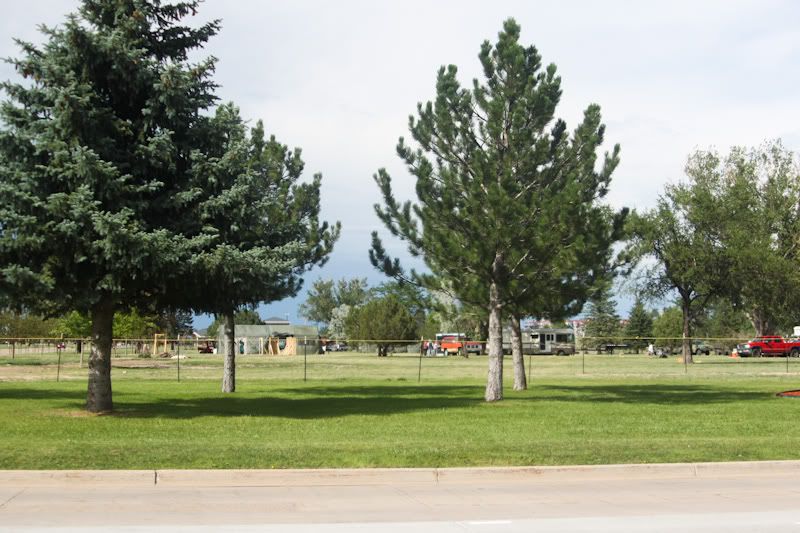 Last glimpse of our Wyoming friends! Till next time! :)



Leaving the base...



Our Colorado. :)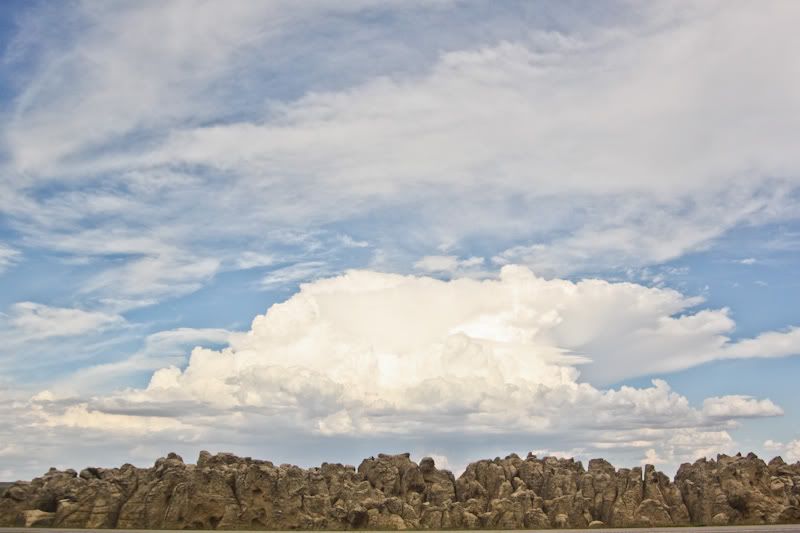 Amazing cloud!



We stopped at Chipotle/Jimmy John's in Loveland.



Leandra and I got JJ's. Sooo so so good.



Definitely weird to be in civilization again!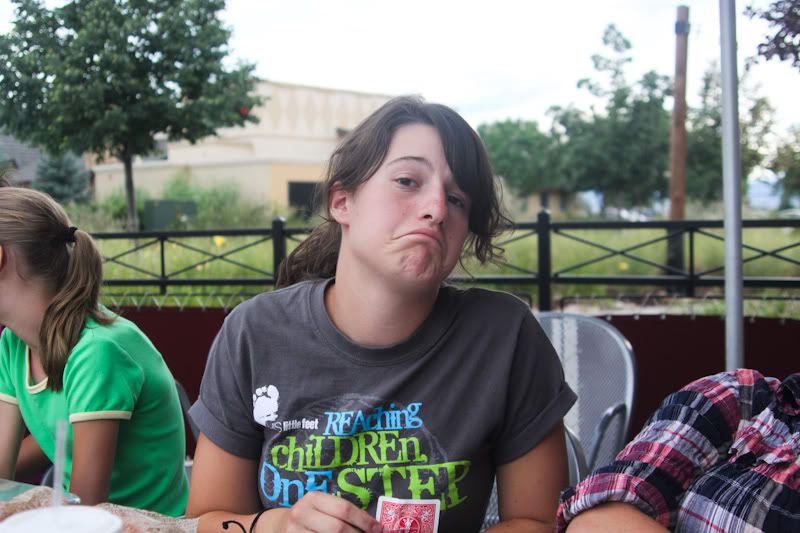 My depressed girl holding her card. Haha.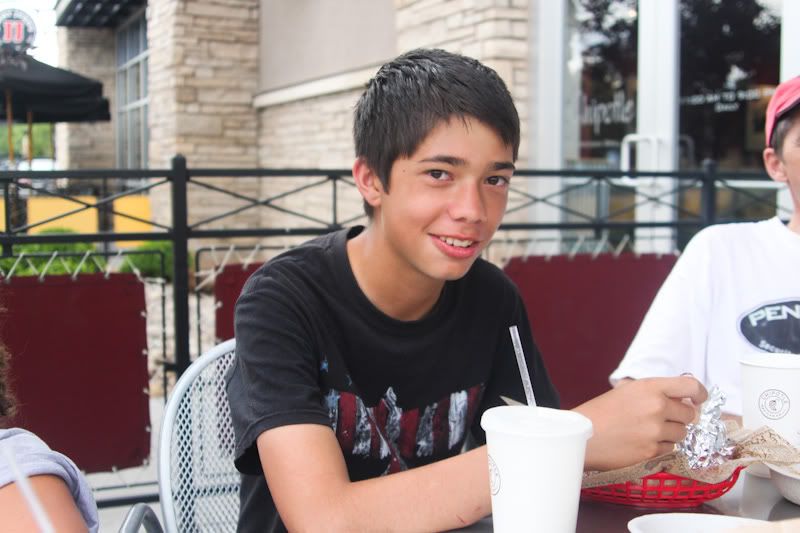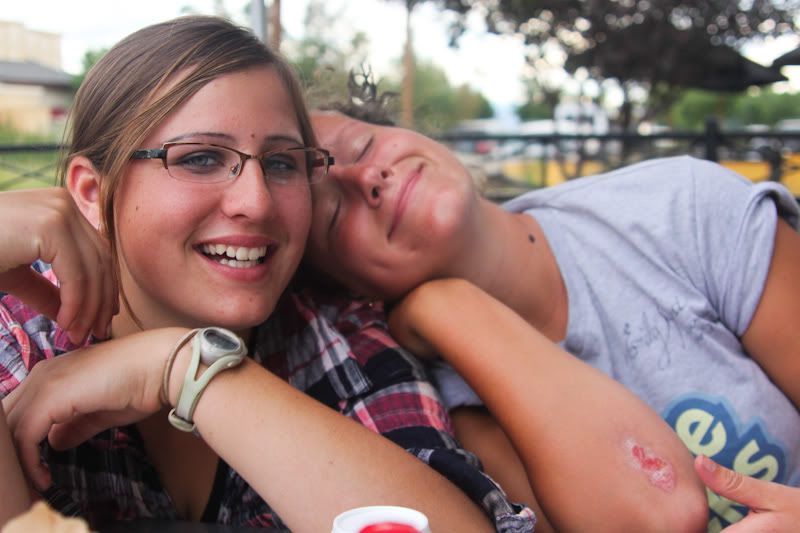 We were tired. :P
My creative picture for the weekend. ;)
That's it for the blog! I have a larger album on Facebook if you're interested...the link is here. :)
Sarah